What a load of shit, all of it. First off let me start with... this is a vent. Deal! I was so excited about SecondFest... *takes a deep breath* It started with the whole BST (Britain Summer Time) timezone bullshit. If you're going to hold an event in a virtual world that runs on it's own time zone, DO it in that time zone. Then I get there a day early to check out the grounds, okay so I get my wristband & it's uberly big & no mod. Okay... I can deal.
So then I wander & walk. I run across signage "Get Your Free Skates On..." Okie dokie pokie. I put them on & continue walking. Walking?! As I look up I realize my skates don't work, and why is that? Akasha points out that there are NO SCRIPTS on the sim. Loverly! *grumbles under her breath* So we go & check out some of the stages, watch some videos, etc. The stages were packed with people doing almost the same dances because again, NO SCRIPT, and they were so kind enough to provide dance machines packed with crappy dances for all. Huzzah! No, fuck that, I am not a clone. So I dig into my inventory looking for a dance animation to play. How boring, the same one dance over & over in a loop. *Yawns & gives up*
I left and as soon as Hawks came online later we explored the grounds some more. That part was fun. Except Hawks made the observation that we are both Type A explorers, meaning we both like to lead. LOL! This is true, I swear I feel I need a leash on him just as much as he prob feels the same about me.
There's a few free things here & there that are good for souvenirs to commemorate the 07' SecondFest as well as just crap you could find in a nooblet locker. The exploring with Hawks part was fun, but we got bored after a bit and moved on to better things.
Then TODAY! The day the
Pet Shop Boys
were to take the stage. Okay so there were only two bands that I truly wanted to see...
Groove Armada
& the Pet Shop Boys. Since we had missed Groove Armada, we planned, did the math, scheduled ourselves etc etc to see PSB. I even went and festooned to
YELLOW
! My gawd!
YELLOW
! Just for the occasion. I get there & my
QuickTime
, the piece of shit that it *is* said it was "negotiating" for the longest time. I couldn't even stream. I uninstalled, reinstalled, rebooted, farked with preferences, kicked my desk, cussed a lot, and in the end... NOTHING!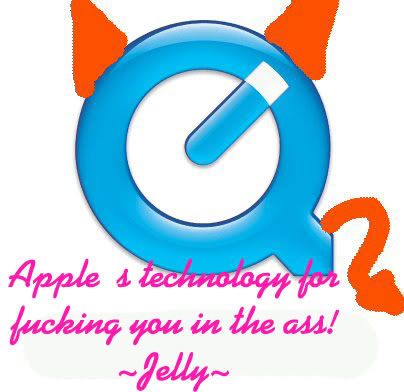 So after the last reinstall of QT I lost the means to view any of my videos, any podcasts, the tunage section on VS and the waffles. Fuck that! Fuck it! Damn it to hell! I hate QT! I uninstalled it again & now everything is back to normal but I can't watch any movies in SL until I get over being pissed enough to see straight & finger it out.
So to sum it up... QT is the devil & I HATE SECONDFEST! BUT... I got a Reeses Peanut Butter Cup & it helps. Thank you Haappy!
The end!