Hear Ye, Hear Ye
At 2:12 a.m. SLT Kala became a Princess. All hail Princess Kala. Yes,
Wrath
now she's even too-too good for ya. :p We've been pushing people up & up. Today I am looking for Duke Jon to become a Prince which shouldn't take too much longer. Kudos to all of you.
Princess Luna rocketh
The plan we were working towards all along was to get my friend Luna into our family. Her line exploded so we jumped underneath her. In fact she rescued our family from bumpage when I made the initial jump. Raise your glasses to Princess Luna in appreciation for all that she has done for this family.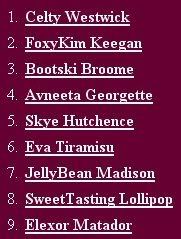 Family #7
We went in yesterday as the #7 family in the counsel. This is exactly where we want to be for the moment. Everyday our family makes leaps & bounds progressing quicker than I could have imagined. Today I wanna work on promotions. Let's get those under you promoted today. As always if you guys need anything from me or Hawks, just ask. :)
Here's your links:
Tiny Empire Standings
Our Family