I took a short break, then back into SL I went. Immediately starting off with a performance by
Louis Volare
@ the
HC 2008 HQ
. "
Luigi and Landon Volare will be performing at the Hillary Clinton 2008 SL Campaign headquarters. Hear some songs that you've never heard before. Landon is the shy guy and Luigi is the outgoing one, in case you d
on't know. Love and Peace Always and Everywhere
."
He's good, like really really good. I told Hawks that he doesn't even need us to write up a review on him. So that's all I'll say about that.
After him was Kim Seifert and well, we already know how I feel about her shows, so we left. Moving on... and we're walking, we're walking...
We remmy'd that Bill & Pam was a recommended show, so after seeing the notice:
Come on down for our 4th of JULY EXTRAVAGANZA!!!
Soft Shadows
6
30-830pm FIREWORKS!
Wear your best patriotic clothing RED WHITE AND BLUE
300L for the best Female 300L for the best Ma
le giveaways, Sploder and more!!!
We decided to change & head down
.
Pam & Bill Havercamp's music is music is considered Soft Classic Rock/Oldies from the 60's 70's and beyond (Beatles, Eagles, Sony & Cher, Mamas & Papas... etc). I really enjoyed their Jersey accents, I believe that's what it was. In either case it was crazy adorable. I also loved the way they communicated together & loved it best when they sang together not just solo.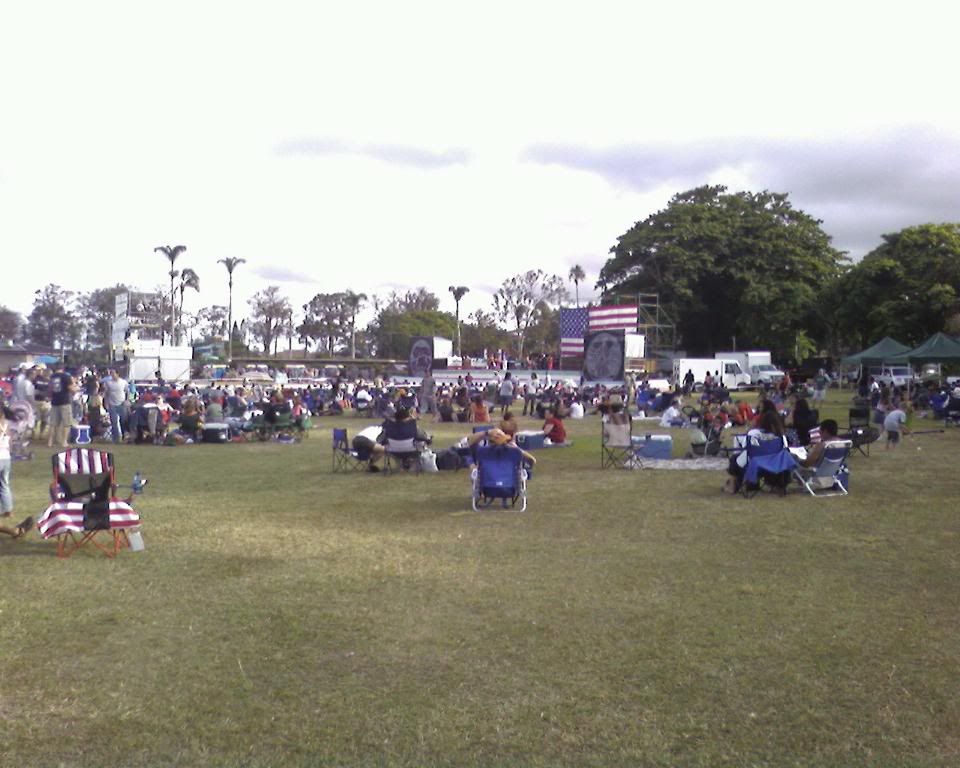 I had to rush off to RL which I dreaded due to the Army Corp of Engineers. Oh yah, Engineers, I don't like you. Every year it's the same thing if I drive, I'm lead around in a huge circle again & again until finally the same guy for the third time directing me around the circle again realizes that I am actually aiming for him with my car and he let's me turn the way I want. Well all that happens AFTER the fireworks show, but gives you some insight on why I didn't want to drive. I did end up driving, but parked well away from everyone else because that gave me less chance of ending up in the infinite loop.
Anywho made it in one piece & after finding somewhere to sit, went on the funnel cake hunt. WTF! NO FREAKING FUNNEL CAKES!?! We got their 4 hours early and no freaking funnel cake? *cries* It wasn't all bad they did have Hawaiian Roasted Corn cobs. Yay! The lines for all the rides were insane. One attraction completely cracked me up though so I planted my ass in front of the ropes just to watch. It was called "Auto Mash". Tickets in Hawaii are called "scripts", why? Iunno. Anywho this was 2 scripts for 5 hits, or 5 scripts for like 15 hits or something. Basically they hand you a mallet & you get to wack the shit out of a car. It was cute watching the kids suit up complete with a big face visor & try to beat the car with a smaller hammer.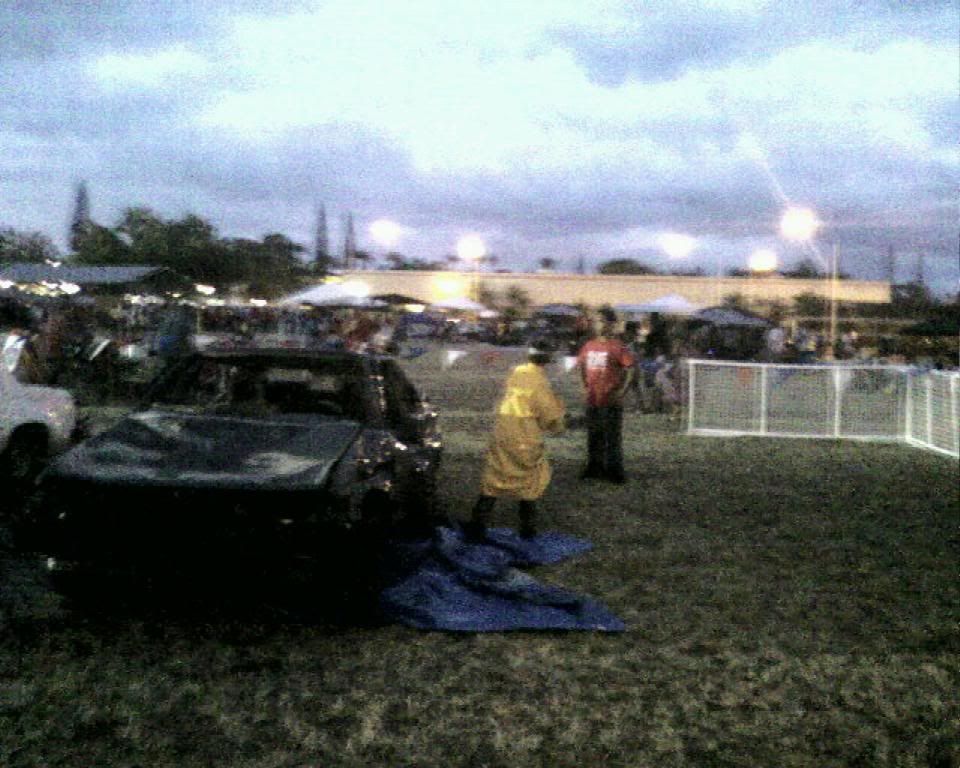 Though the kids were cute, the adults were funny as hell. To see the grown men thinking they were uber macho go out there & beat on it was the funniest. One guy kept hitting the bumper, I guess so he could feel like a manly man ripping off PLASTIC? hahahahaha! Another would hit, then stop to flex his muscles, if thats what you wanna call it and then hit the car again. He was the same guy that tripped walking away afterwards. So graceful. That was the highlight of my night. The fireworks were same as last year except the tree that was there musta grew an extra 5 feet which made it hard to see all of em. Yada yada yada. To make an already long story short, I avoided every road with an MP or Corp of Engineers blockade. Yay me. The End!