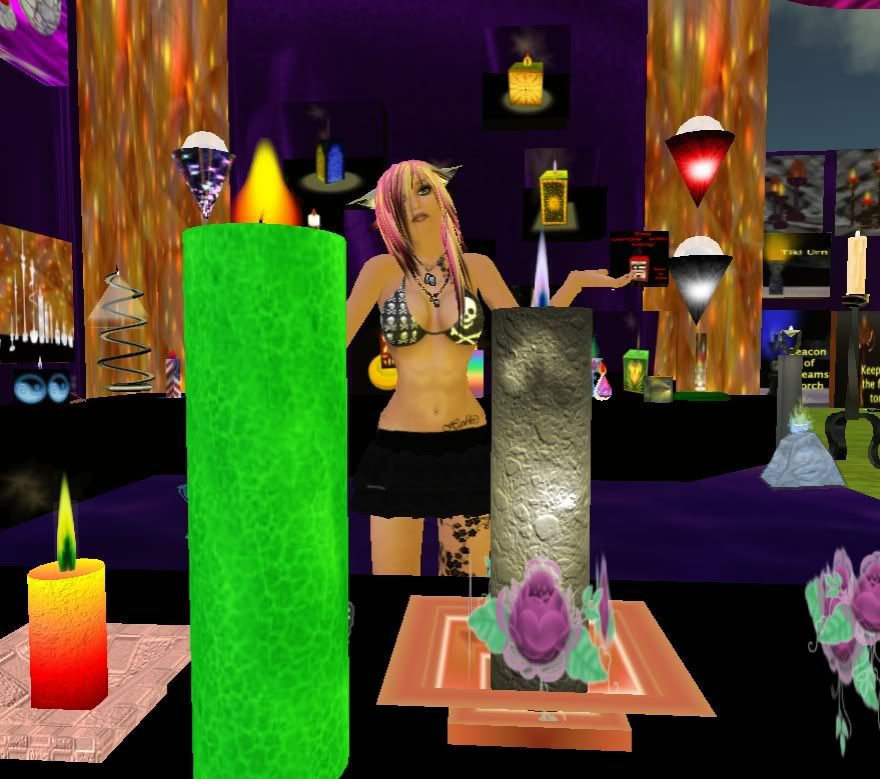 Okay ya'll... I decided to make this a series because Hawks gave us very great
wooage
ideas, I'm going to try to go down the list (in no particular order) & give you a little extra under the series name of "
SLove & Romance
".
This one covers:
18. Use the midnight setting - A LOT
19. Combine 18 with some hot local lighting o
ptions - ie candles/torches/etc
I have to admit, I'm not a builder at all. Jeepers, Hawks has seen me with a fire script. The local Wildmutt Fire Dept. (especially station house 12) has prohibited me from attempting any fire related builds. It's not pretty at all. With that said, I went on my merry little way to sniff out the best local lighting options with my bestest shopping buddy, Dreamer.
Dreamer's find was
[PurE] Furniture
. A few nice candles scattered .. but also some really cool lighting.
I was uber picky & decided that I'd stick with my "Light Balls" (patent pending). Here's what ya do to create your own Light Balls... (requires basic build knowledge - I don't hold hands or wipe asses, ya just gotta know this).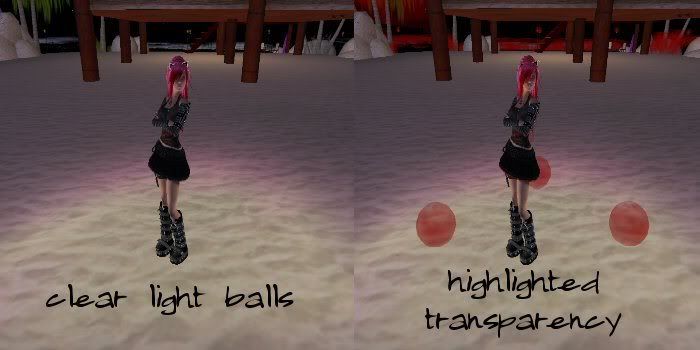 Go into build mode & create a sphere.
Under the "features" tab - click the 'light' box
there's a default white color box there (click it to change the color of the light emitted, or leave it white, no big)
next you can play with the intensity, radius, or fall off (I don't fook with that but you so can)
Go to the texture tab & choose a 'clear' texture from your inventory (there's a 'White - Transparent' in your library, if you don't have a full clear texture). Set the transparency to 90. This will make the ball semi-invisy but it still emits local light. Using a full clear texture is best but if you must use the one from the library, you will still see a hint of it (it will not fully disappear).

Make copies of your light ball & place them around the area that you'd like to set the mood. You can change the light emitting from each one to a different color to get different effects.
Bow chicka bow wow