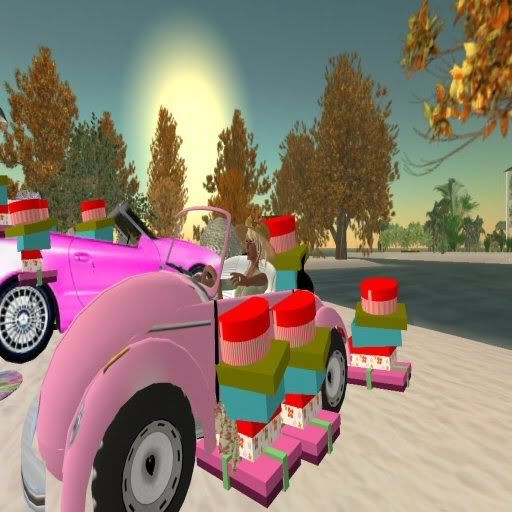 Wilma Delgado is a woman after my own heart... a pink lover & shopaholic. She sent me her shopping trip aftermath pic today & I had to share it. :)
I have some great finds to post so shall we?
The Pink Bug
I've actually had this car for like ever but decided to whip it out last night for mine & Rosie's
BL 07 road trip adventure
. I had a couple people ask where I got it so here ya go...
Beetle Mania! by Furia Freeloader
Best VW Beetle replicas in second life!
Pink, Red, Yellow, Purple and Hot Rod Beetles available. Herbie the Love Bug! Girl Power Pink Chopper also!
FNKY! PINK Kicks
Ooooo the yummy goodie goodness of pink leathered sneakers. As I opened the box the new shoe smell made me feel all warm & fuzzy like. :) The
FNKY!
KICKS are unisex retro styled sneakers that come in 12 colors (not just pink - haters!). The shape and texture are very detailed and realistic. The box contains 5 sizes. Permissions: No Mod/Copy/No Trans. No. of Prims: 15 each. The shoes come in 5 sizes, but you should adjust your foot size for best results. That means size 0 home clucks! :D
*BabyDoll* BabyDoll's Cheerleader
I already owned the "Dark Beer Wench" costume from when we had the Eager Beaver Pub at the Lodge. Awww memories. Anywho I looked up the creator of that costume when I whipped it out for the
West of Ireland
video. Off to Babydoll's I went. This place is hawt for sexy lingerie, sexy costumes, panties, harnesses, and latex. Oh yah, I'm kinky, didn't I tell ya? :p Costumes include cheerleaders (obviously - duh), naughty nurse, french maid, school girl, etc etc. So go checkity check it & play up your uberly favorite fantasies...
BabyDoll's
C.E. Drunk Kung Fu v1.3
This is a great new toy for Hawks & I from
Abranimations
. I actually bought ours from
SLExchange
so I could get one for Hawks (love that 'give as gift' option). You can stagger around and punch things as well as each other. :o Realistic Animations, sounds and special effects with lots of options. - Various Push Settings for use in push enabled areas - SL Damage on SL Damage enabled land - Various weapon specific options for special effects etc. - Control through keyboard OR using hud buttons - Detailed Combat with attacks, blocks and counter attack. - Scoreboard and quest information on
website
.