I know it's so not like me to not blog at least 1-3 times a day. I kinda fell off the mental plains yesterday. Forgive me. So I suppose an uppity update is needed...
Whoop There It Is
The other night me and my girls hootchie'd up - complete with blingtardiness & hit the streets of
Varado
, or better known as the Block. I'm not sure if I mentioned it but Hawks purchased new machinima editing software & I've procrastinated learning to use it. Orchid being the uber big smert purple thing that she is suggested I shoot video that I wanted to play with. That's just what I did - ghetto style yO. I'm still messing with it, tweaks and self-teaching myself the new transitions, etc. I'll post the train wreck here when it's finished.
Boom Boom Ba
Hawks & I have been working on ideas & filming this for a week now (well the idea part anyways). I love the way it's turning out so far. It's just a matter of working out the animation limitations & capabilities. I'm still using the old software for this video because I'm so not comfy with the new yet. I'm hoping to get this finished today & posted. Cross your fingers for me. :D
Tiny Empires
I created a group for our tiny little sliver in the corner of the masses. We're the
Tiny Empires - One Step Beyond
group. If you need an invite let me or Hawks know. It's been a frustrating morning to say the least. Last night I left my liege for a bribe because we had worked it out that she would be joining me later after the split. I thought I had made a good decision up until my new liege gave up her kingdom to regain her spot in the larger family thus putting all of us back into the huge stew known as Celty. I don't wanna be in Celty. I have big plans for our Empire. Here begins the plotting....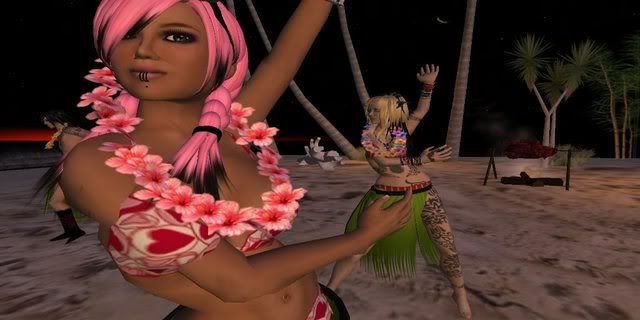 Hula on Hold
Last week I was suppose to start my RL hula lessons & Hawks was taking over my first hour at
Clockworks
. Well due to some RL stuff going on, I'm going to be putting my hula on hold. I still want Hawks to work my first hour cause I think we make an amazing team. So don't forget to come out on Tuesday to
Clockwork
for his set followed by mine. :D