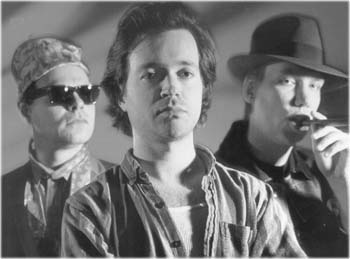 Tuesday Clockworks Set:
Okay so this week's set is going to be a sort of strange combination. I feel I have been remiss not having a Femme's set yet, but I am also sort of feeling She Wants Revenge after listening to their new CD and also revisiting some of my past fav's through our vid shoot last week. Therefore, I am going to be bringing you the She Wants Violent Femme's Revenge set this Tuesday from 6-7. 30 minutes of SWR followed by 30 minutes of Femmes action. Be there or be bored on a Tuesday night! And as always, I will be followed up by the one and only JellyBean Madison pounding out some more ska favorites.
Kindly State University:
I have been really debating as to whether I wanted to apply here or not.
Cons:
- There is one key personnel issue, where one of the players has a personal vendetta against me. Jealousy is a bitch, eh. I have been told how much he hates me many times, even though I have never talked to the dude. Sort of ties into my next point...
- I have a major issue with social cliques, especially ones founded on ideals of superficiality like beauty, wealth, or social status, which was my experience with many of the fraternity/sorority setups in college the last time around.
- I was worried the point of this was just going to be trying to recreate some sort of animal house type environment, with drunken parties and random hookups. I don't think less of others who want to rekindle this for themselves, but I have outgrown that part of my life, and don't really feel the need to relive it though my Slife either.
- I was viewing KSU as a chance for Jell to spend some QT with her female friends by having a unique experience with them. I didn't want to get in the way of that.
- KSU happens to be the "other" Kansas school, that I would not attend if they paid me... :)
Pros:
- Jelly is there and wants me to participate.
- The idea of having the opportunity to role play out a situation, where I get to meet and fall in love with Jell all over again.
- There is a chance that some of the classes might be somewhat academic in nature, and I love learning no matter the format.
- Jell won't feel like she has to split time between her time on campus, and time with me.
To make a long story short, I was still debating whether to join or not, when Jell dropped on me last night that she thought she was going to drop out after another week, because she wasn't enjoying it. I really think my reticence to embrace it has impacted her fun factor for the experience, so I decided last night to give it a college try. I submitted my app as an intelligent hard working graduate student looking to get an advanced degree in Machinima and Creative Writing, so that I can go on to be a professional script writer. We will see if I get accepted on that basis or not. If I do, then I am going to be signing up for any writing classes I can find, and being on the lookout for an attractive female of the pink haired persuasion that I might be able to seduce.
Tank Girl:
I am finding it too easy to find things to keep me from working on this project. I really hafta buckle down, and get cranking on some stuff. I have been thinking about it, and things are progressing in my head, but I have to sit down and actually write something to feel like I am making progress.
Tiny Empires family party:
Jell and I spent yesterday decorating the hangar at JH productions for the family Halloween party. I think it looks great, and I am really looking forward to getting as many of us together as can make it. We are still shooting for Friday night, but sort of waiting on Jell's work schedule to make sure that will work. We might not know for sure til Thursday, but we will send it out in notice format as soon as we know for sure. We have a really fun loving caring family, so I am sure it will be fun!
Moulin Rouge:
I was shocked to hear that Jell hadn't seen Moulin Rouge, so we remedied that on Friday night. What an awesome movie, and a great date movie I might add with the love story theme! Makes me want to see Romeo and Juliet again, after talking about it with Dreamer.
kk enough about me, back to work/procrastination on Tank Girl stuff.